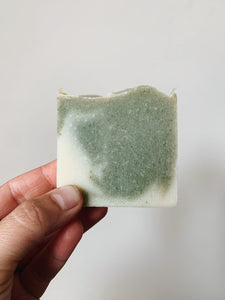 A herbaceous bar:
Rosemary is cleansing and clarifying, it balances skin and is antiseptic, antibacterial, and antiviral - a powerhouse! Peppermint is used for its anti-inflammatory, antiseptic and it's toning properties. Plus it tingles and cools you down - double whammy! 
Small batch, handpoured cold process soaps locally made in the Okanagan. Crafted with oils chosen to blend together to create a soap bar that lathers creamily and moisturizes while using. 
Vegan + palm oil free! Scented with essential oils, colored naturally, no artificial ingredients. Each bar is approximately 3 oz. 
Our soap bars are cured for 4-6 weeks to maximize the hardness and longevity of bar. To help use your bar to its fullest, store in a well drained, dry place to get the most out of your bar (AKA not right under your shower head or in a dish that doesn't drain). 
*Natural handmade product so some variation in size, texture, and color can be expected.