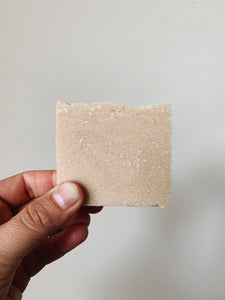 A subtly scented bar that smells like lavender and caramelized honey
To quote my brother-in-law, Mike, this bar is maybe "one of your best you've ever made".
Honey has antimicrobial properties that cleanse the skin without stripping the skin's natural oils away and leaving moisture in. Lavender calms and naturally cleanses the skin. This bar is great for those with sensitive skin. 
Small batch, handpoured cold process soaps locally made in the Okanagan. Crafted with oils chosen to blend together to create a soap bar that lathers creamily and moisturizes while using. 
Not vegan* + Palm oil free! Scented with essential oils, colored naturally, no artificial ingredients. Each bar is approximately 3 oz. 
Our soap bars are cured for 4-6 weeks to maximize the hardness and longevity of bar. To help use your bar to its fullest, store in a well drained, dry place to get the most out of your bar (AKA not right under your shower head or in a dish that doesn't drain). 
*Used Okanagan honey from local beekeepers
**Natural handmade product so some variation in size, texture, and color can be expected.