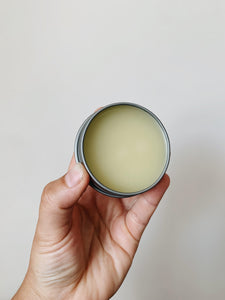 For all the barefoot walking, dirty gardening lake swimming, cracked hands and feet: this is for you.
This is the only thing that has helped with my perpetually cracked and hurting hands and feet. Farming is tough on the hands, and I'm a barefoot sort of person, so I can say that this is the only thing that I've gotten to not only soothe, but heal the cracks! 
Oils chosen for hydrating and butteriness and then infused with calendula from my garden. Calendula is soothing and helps with healing while also improving skin hydration.  
Left unscented for scent-sitive folks and can be used anywhere on the body that needs some salve and love and moisturizing. 
For worst cases - slather on to feet or hands before bed and then put socks on over top and let the moisture soak right in overnight. For maintenance + preventative use, use less (and a little goes a looooong way) - put a dab on and rub it in 30 minutes before bed. 
Only 3 ingredients: sweet almond oil, organically grown calendula, + beeswax from Okanagan bees
Approx. 1.2 oz.
*Oil based so beware of stains on sheets*