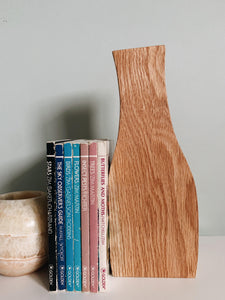 Hand crafted big chunky vase, perfect for dried stems and pairs nicely as a book end. Solid chunky base topped with a slightly fluted neck will add whimsy and charm to any bookshelf or mantle you place it on without much fanfare as the natural wood grain and color catches the eye strikingly.
Not watertight, use with everlasting bouquets. Finished with Wax + Oil finish.
Natural product so each piece will be unique in grain pattern, color variation, and height. Height approximately 12".