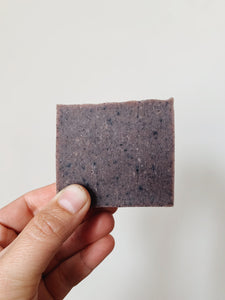 An invigorating bar: I recommend using this one on your face!
Tea Tree has antimicrobial properties and is used often for treating acne, cuts, and abrasions. Eucalyptus is known for its antibacterial uses and deodorizes. Plus, it's a natural decongestant and cough suppressant, because of how it opens up your airways (bonus with back to school).
Small batch, handpoured cold process soaps locally made in the Okanagan. Crafted with oils chosen to blend together to create a soap bar that lathers creamily and moisturizes while using. 
Vegan + palm oil free! Scented with essential oils, colored naturally, no artificial ingredients. Each bar is approximately 3 oz. 
Our soap bars are cured for 4-6 weeks to maximize the hardness and longevity of bar. To help use your bar to its fullest, store in a well drained, dry place to get the most out of your bar (AKA not right under your shower head or in a dish that doesn't drain). 
*Natural handmade product so some variation in size, texture, and color can be expected.